WALL CLADDINGS FOR FRAMED BUILDINGS
WALL CLADDINGS FOR FRAMED BUILDINGS
BACKGROUND:
'The earliest structural frames were employed to support the walls and floors of large buildings, using traditional masonry or brick wall construction. The frame was built into the external walls, which it supported at each floor level, so that these buildings had the appearance of a large traditional load-bearing structure…
The main disadvantage of brick and stone as wall materials applied to framed buildings is that their high self weight requires substantial frame members. The more logical use of a structural frame is in the support of some lightweight form of walling of sufficient strength to be self supporting between frame members and with adequate resistance to the penetration of rain and wind and adequate sound and thermal insulation…
The structural frame has provided the possibility of endless variation in the form and appearance of buildings that no longer need be contained inside a load-bearing envelope…
The external walls of framed buildings differ from traditional load-bearing walls because the structural frame has an effect on and influences the design of the wall structure it supports. To the extent that the structural frame may affect the functional requirements of an external wall, it should be considered as part of the wall structure.'
Extracts from; Barry, R. The Construction of Buildings 4, Blackwell Science.
Along with the other principle elements of superstructure, the selection of an appropriate cladding system for a framed building is crucial to the success of that building. The cladding system must be compatible with the structural frame and other building elements, which together must satisfy a range of functional requirements, the scope and nature of which vary subject to the individual building.
FUNCTIONAL REQUIREMENTS
In the context of a framed building the primary objectives of the cladding system itself are;
i) Provide an enclosure to the structure which will give the necessary protection against the elements
ii) Exploit dry construction methods where possible, including the use of off-site prefabrication
iii) Impose the minimal additional dead load onto the frame
iv) Enhance the architectural concept/appearance of the building
To fulfil these objectives the cladding system must meet the following functional requirements;
Strength and stability Strength to support its own self weight between points of supports or fixings to
the structural frame.
Stability against lateral wind pressures.
Allowance for differential movements between itself, the structural frame and other adjacent building elements.
Compatibility with Integration with vertical and horizontal frame members/elements, including
structure wind bracing arrangements.
Ability to cater for frame movements.
Weather resistance Resistance to wind, rain and other forms of precipitation (cladding and joints).
and durability Durability, freedom from maintenance, and ability to weather well.
Control of internal Proportion of glazed to 'solid' areas.
temperatures Type of glazing (ie use of solar control glass).
Three-dimensional form/shape of cladding.
Externally applied solar control measures/devices.
Consideration of cladding design in conjunction with internal environmental control systems.
Thermal insulation Achievement of U-values laid down in the Building Regulations (AD L). (Nb
'Standard Assessment Procedure' (SAP) approach allows one building element
to compensate for another).
Avoidance of problems arising from 'cold bridging' and from surface and
interstitial condensation.
Minimisation of air leakage.
Environmental/ Contribution of cladding system to overall energy efficiency of the building.
sustainability issues Environmental friendliness of cladding materials (embodied energy etc).
Fire requirements Fire resistance may need to be provided subject to proximity of other buildings and the use class of the building in question (AD B – 'Unprotected areas').
Restriction of flame spread to internal and external surfaces and within voids.
Sound insulation Insulation against airborne sound originating from external source.
Prevention of sound originating in one part of the building being transmitted to other areas via cladding members/elements.
Aesthetic issues The need to respond to the context within which the building is situated.
The need to satisfy the aesthetic aspirations of the client. (Weathering characteristics/durability of materials).
General function Daylighting and natural ventilation requirements.
of the building Degree of privacy required.
Exploitation of pleasant views/exclusion of undesirable views.
Etc, etc.
The above forms a basic, though not necessarily exhaustive, checklist of factors/issues to considered when selecting an appropriate cladding system for a building. Aesthetic issues will invariably form the initial basis for choice, though other factors such as speed of erection, buildability and, inevitably, cost, will also influence the choice strategy.
RANGE OF CLADDING SYSTEMS/APPROACHES AHVAILABLE TO THE DESIGNER
Walls to framed buildings may be classified as;
Masonry and metal Brickwork or facing blockwork as the outer leaf of a cavity wall, or the outer
'facings' leaf of a timber framed 'wall'. Facings applied to a cavity or solid wall backing ie natural stone facing slabs, ceramic tiles, terracotta and faience, mosaic and flint.
Fully supported sheet steel, stainless steel, copper, bronze, aluminium, and lead, with welted joints. Tile and slate hangings and renderings.
Timber Weatherboarding fixed directly to the sheathing of a timber framed wall or fixed to timber framing fixed to masonry background. Plywood or blockboard panelling fixed as weatherboarding. Shingle hanging.
Concrete, GRC and Pre-cast concrete.
GRP Glass fibre reinforced cement (GRC).
Glass fibre reinforced polyester (GRP).
Infill panels Timber, metal or plastic framed panel 'infilling' between horizontal and vertical frame elements/members, with the framed panel subdivided to form windows or 'solid' panels as desired.
Glazed wall systems Curtain walling.'Structural' glazing.
Sheet metal cladding Profiled metal sheeting as outer skin to 'sandwich' or double skin construction.
'Composite' insulated panels, with flat or profiled outer face.
Flat panels Flat metal, wood fibre reinforced resin, fibre reinforced cement un-insulated panels fixed to 'carrier' sub-frame, in turn fixed to insulated structural backing
(Open joint 'rainscreen' type, open 'drained' joint type, and sealed joint types).
'Composite' flat metal insulated panels.
It is important to understand the characteristics/qualities of the above systems/materials, in relation to the functional criteria identified previously. For instance, for each cladding alternative, recognise;
How is it fixed and what is the overall build-up of the external wall, including primary and secondary support requirements, method of waterproofing and insulating, internal linings etc etc?
What is the relationship of the cladding system to the structural frame?
What are its appearance characteristics?
Fire resistance? Resistance to mechanical damage?
How are windows and doors incorporated?
How much does it cost to install, to maintain, to repair?
How environmentally friendly is it? Etc etc etc.
It is also important to understand how one alternative system compares with another, what advantages one has over another. All of this must be weighed against the client's priorities in order to select appropriately.
1.

MASONRY AND METAL 'FACINGS'

2.

TIMBER
3.

CONCRETE, GRC AND GRP

4.

INFILL PANELS
5.

GLAZED WALL SYSTEMS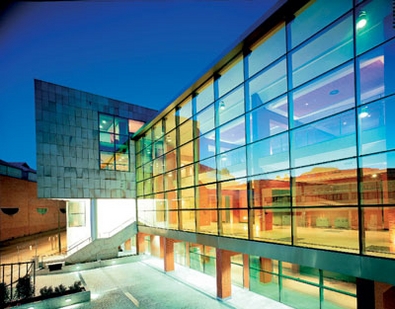 6.

SHEET METAL CLADDING
7.

FLAT PANELS
REFERENCES (AND RANGE OF SOURCES FOR RESEARCH)
Stroud Foster, J. and Harington, R. (2000) Mitchell's Structure and Fabric Part 2, 6th Edition, Longman.
Emmitt, S. and Gorse, C. (2006) Barry's Advanced Construction of Buildings, Blackwell Publishing.
Chudley, R. (1996) Building Construction Handbook. Laxtons.
Orton, A. (1994) The way we build now. E & FN Spon.
McEvoy, M. (1994) Mitchell's External Components. Longman.
Brooks, A.J. (1990) Cladding of buildings. Longman.
Brooks, A.J. and Grech, C. (1990) The Building Envelope; Applications of new technology cladding.Butterworth Architecture.
Brooks, A.J. and Grech, C. (1992) Connections; Studies in Building Assembly. Butterworth Architecture.