Architectural Rendering
Inclusion of architectural rendering software and techniques in architectural design has led to a radical age in the process of marketing and visualization of architectural designs. It breathes new life into design by bringing in new designs to 3D life. Architectural 3D rendering enhances design value and communication. It helps clients, shareholders, contractors and others involved in the design and execution process to better understand the intent and beauty of the design.
Creating rendering of an architectural design is a more comprehensive way to explain and/or sell your design. In the schematic design phase, architectural renderings can serve as effective and aesthetic tools to communicate the intended design to the client or stake-holder as it would look after it has been built.
You can effectively incorporate realistic tools like vegetation, people, colour, texture and lighting to your renderings to help them seem as closer to life and reality as possible. 3D architectural rendering using software such as Revit Architecture, Sketchup, 3D Max or Photoshop and many other CAD 3D softwares are of critical use to architects, interior designers, clients, real estate developers and house builders to create a hype and virtual representation of their proposed developments. These architectural rendering are used as marketing and promotional material in advertisements and brochures.
These 3D architectural renderings hence, give a virtual insight into the layout and proposed look of the design to prospective tenants and home owners.
Traditionally architectural rendering entailed the artistic representation of the reality of the architect's design. Now with digital technology and advent of rendering software, more accurate and realistic future reality of an upcoming building can be created. Hand drawn renderings are thus, being slowly phased out of the architectural design environment except for being used by architects and designers during the preliminary stages of planning and design development and primarily for their own use. For the purpose of expressing their designs to clients, stakeholders and others interested architects and designers are increasingly relying on architectural rendering technology to create digital, virtual representations by way of a photo-realistic visual 3D architectural rendering or a full scale architectural walkthrough.
Uncompromised quality, accuracy in fine details, and an ability to allow multiple vantage points are some of the quantifiable advantages of 3D architectural rendering. Varied arrays of architectural rendering techniques are in use today. Concept visualization focuses in realistic colour renderings, exterior renderings, floor plan rendition, interior renderings and site plan walkthroughs. These could be coloured, textured rendering or black and white conceptual sketches.
Also search for architectural rendering software in Google, you'll find 2D and 3D softwares which will enhance your projects.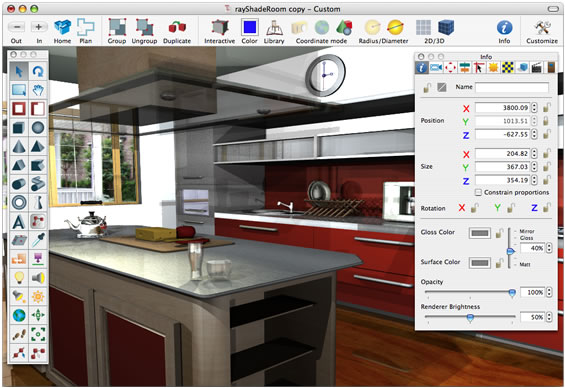 Tell a friend about this blog and article:

Help others find this article at Del.icio.us, Digg, Netscape, Reddit, and Stumble Upon